Sydney Morning Herald
by Bernard Zuel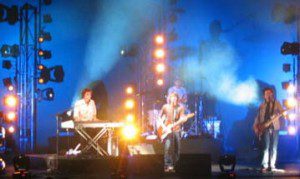 Auspicious moments? It was the day all horses celebrate a birthday. It was the 15th time (give or take) that the Whitlams have played (and sold out) the Metro, a venue that has replaced Newtown's tiny Sandringham Hotel as the band's home turf. It was the first time in five years that they played Up Against The Wall, with its pithy summation: "You met interesting people and you slept with them."
And that line brings up a final moment: it was less than a fortnight since Coldplay had traipsed through town, trailing radio airplay, Hordern Pavilion concerts and an actor who apparently is boffing the lead singer. The significance? Try as I might I can't see why the Whitlams aren't as big as Coldplay.
It's not the songs. Tim Freedman is at least as good, and I would argue a better writer than the four Brits, as this show amply demonstrated. The trilogy of songs known as Charlie #1-3 have pathos, elegance and insight; Best Work is a dramatic and almost ornate gem that wears its Elton John cloak well; Royal in the Afternoon continues the Whitlams tradition (that includes You Sound Like Louis Burdett) of the kind of deceptively easy rousing singalong that transforms a dark club into a sunny pub courtyard.
It's not the backgrounds. Both bands started as small-scale enterprises that were derided for having the homey feel of a uni free-beer-night entertainment but their connection with the audience is strong and palpable. People don't just sing along, they feel it. And when it's necessary to pull the switch for vaudeville, the Whitlams have a slice of '70s vamping like Gough or the stomping I Will Not Go Quietly.
It's not the legacy of having their biggest hit having been a ballad when they want to play harder now. The current Whitlams – Jak Housden on guitar, Warwick Hornby on bass, Terapai Richmond on drums and Freedman on keys – are just as meaty an outfit, just as "rock" as a melodic pop band can be as the new look rocking Coldplay.
And it has to be acknowledged that the Whitlams are better players, as they showed by rescuing their cover of Bernie Hayes's You Made Me Hard by adding swing to counter the leadenness that had marred their recorded version, and by pulling off the difficult balancing act of feeling like Steely Dan but without the dispassionate precision in powerful new takes on Cries Too Hard and No Aphrodisiac.
It may not float your boat but the Whitlams' success is no fluke and isn't going away any time soon. They're too good, too much fun and too smart for that. As for the missing Coldplay level of success, maybe Freedman should consider dating Naomi Watts. Or smashing a windscreen or two.