Sydney Morning Herald
by Kelsey Munro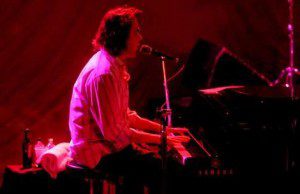 The Metro, November 26
Coming just in time for the tailend of this month's anniversary revival of all things Gough, the Whitlams returned to their home turf of the Metro to another sold-out crowd, to road test new songs from a double album due out early next year.
The benefits of having the same solid line-up of talented players for years now – piano-playing frontman Tim Freedman with Terepai Richmond on drums, Warwick Hornby on bass and a scene-stealing Jak Housden on guitar – shone through. What could have been straight-ahead ballads were enlivened with imaginative playing and the idiosyncratic accents Whitlams fans have come to love.
Songwriter Freedman has long positioned himself as a poet of contemporary urban Sydney, a left-wing, wine-happy, street-level egalitarian with firm Newtown roots. He delivers inner-west love songs as happily as he tackles fast-food jobs, patriotic paeans and neurotic university girls (a favourite topic).
He's done this with mixed results. Songs like Charlie (Buy Now Pay Later) nearly drowned out by the crowd's fond sing-along and the wordy, witty I Make Hamburgers and their 1997 mega-hit No Aphrodisiac are among the best of his output. They connect right where they're supposed to, with a mix of genuine feeling, sometimes startlingly private sentiment and unforced levity.
But elsewhere, Freedman's earnest attempts to render the banal details of life meaningful are less convincing.
An example of this is the bald sentiment of Blow Up the Pokies which mistakes triteness for an appeal to the blunt vernacular. Or the title track from the forthcoming album, Little Cloud, which tackles the fraught subject of immigration detention. It's self-conscious in its imagery of kids playing in the dirt and a fence that "shivered in the heat/as though it wanted to disappear". Hardly. It's probably not coincidence that many of the songs that tackle politics – John Howard is a favourite Freedman target – are the ones that seem forced. But by the same token, the Whitlams' self-consciously wordy style would be dishonest if it didn't make room for this kind of political reference. Just because it's awkward, doesn't mean it's invalid. Meaningful pop music should engage with its time. For Freedman to allocate at least one verse of his despair (in a new solo piano, drinking song) to Howard's 2004 re-election will hit home for at least 49 per cent of us, anyway – and probably a lot more for the average Whitlams' audience.
While the fans were respectfully patient with the new material, they reserved their real exuberance for old favourites like You Sound Like Louis Burdett, and Hamburgers. It was a long set, mostly strong, and a reminder that the Whitlams, a going concern for 13 years now, are not going to disappear just yet.