The Courier Mail
by Noel Mengel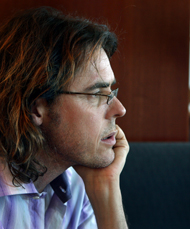 DESPITE his reputation as a chronicler of urban life – as if he might lose his bearings when he ventures outside of Sydney's inner-west – Tim Freedman knows this road well.
He should. The Whitlams, in one form and another but with Freedman as the one constant, have been up and down the highway from Brisbane to the Gold Coast many times these past dozen years.
So well, in fact, that he knows exactly where the turn-off to the Beenleigh Tavern is.
Stories about Freedman and his enjoyment of a classy red wine or three – tales of drinking are as central to his lyrics as are his sharp observations of Sydney life – are so many as to be cliched.
Still, it's a memorable image: a bright Thursday afternoon, the rock 'n' roller striding purposefully from the bottle shop, corked bottle of red and newly purchased glass in hand. The glass is for me. Tim's fine with the bottle.
I'm in the back of the van, getting the sneak preview of the new Whitlams' album, Little Cloud.
It's the only time that can be squeezed into the schedule.
He's going to be on the coast for about an hour, some quick interviews, press the flesh.
Tonight it's dinner in Brisbane with radio people. Then he's off to New York.
It's a life that might send most of us spinning off our axis, but Freedman shows no signs of growing tired of it.
The founder of The Whitlams has been one of this country's most popular songwriters for a decade, an eternity in the ever-decreasing circles of the pop music cycle.
In an image-hungry game, it does him no harm to be tall and photogenic, charming and refreshingly honest to interview.
But for a teller of stories there is no career of any lasting worth without substance, observing the details the rest of us store in the subconscious, spun back to us as a line of dialogue, an evocative phrase in a song.
That's Freedman's true gift and he knows it. Certain of his lines rise up through the pop culture static, something memorable to hang on to in an age when words are thrown around with so little thought that they become, like DVD players or this week's next big thing, a disposable commodity.
For instance, "Blow up the pokies and drag them away" from Blow Up the Pokies, a song inspired by the horror of finding poker machines in the pub where his band used to play.
And, most famously, "No aphrodisiac like loneliness". There is a generation of Australians who can immediately recite the next line ("Truth, beauty and a picture of you"). The song, The Whitlams' breakthrough hit in 1997, has become such a part of the atmosphere that John Farnham recorded it on his last album, alongside tunes by Daddy Cool and Australian Crawl.
"When I start a record I always worry," Freedman says, leaning back from the front passenger seat, "am I going to come up with any of those phrases that I'm going to be proud of?"
Sitting one metre from the author while listening to his music, you get a glimpse of how unsettling this all might be, your intimate life out there for public consumption. Enough to drive a man to drink.
But Freedman is having none of that: "I've got an easy job. I'm writing rhyming couplets, not novels. But this one has phrases and couplets that make me laugh, which is how I judge an album of lyrics. It's not a novel but there are a few grins on there for people."
I Was Alive, for instance, is another instalment in Freedman's long-running battles of the heart (at 41, girlfriends have been many, long-lasting commitments have not). The song is about a tempestuous relationship with a woman whose fondness for a good time was even greater than his own. "She didn't know which one to buy, Australian Shooter or Australian Bride" is one of the album's vivid turns of phrase.
Nor does it take long to decipher who "the rat" might be in The Year of the Rat, given the man that Freedman's band is named after. Hint: the rat is not John Kerr. But Freedman, as those who've been listening carefully through the band's career know, doesn't only play for laughs. He really cares about lyrics.
For example: "On your side of the night cicadas are the sound of the earth creaking/As it's slowing down to spin you into sleep in your home-town." That's Stay With Me, Freedman writing in New York, missing a friend at home. He says he went through 50 versions of those lines before he was satisfied.
These particularly Australian insights are at the heart of Freedman's appeal, and what set The Whitlams apart from the pack back when they were a Saturday-afternoon trio playing for beers at a local pub 14 years ago. Sydney's inner-west is to The Whitlams what Manhattan is to Woody Allen.
Freedman is at it again on Little Cloud, two CDs of eight songs each, recorded with producer J. Walker, himself a singer and songwriter with his band Machine Translations. The first CD features tunes about Sydney or returning to Sydney, and specifically Newtown – the teeming muso- and studentville near Sydney University, Freedman's home for most of the past 18 years. The second is mostly about New York, where many of the songs for the album were written on a three-month sojourn in 2004.
After a long and taxing tour, he needed the time "to recalibrate".
"I would meet friends for dinner twice a week but I was mostly on my own, which isn't depressing to me. I've lived alone for seven years. I like it," he says.
Freedman's writing is mostly autobiographical, although on the band's last album, Torch the Moon, he tried to be more universal, with few ties to locality.
"This time I decided I am what I am. It's a limitation I have that I end up writing about what street I walked up and who I met," Freedman says. His limitation but also his strength. These stories ring true – even to someone who might never have set foot in Newtown – and are sometimes shockingly honest.
This is what songwriters do, give little bits of themselves away. Or great chunks. At album's end is The Curse Stops Here, as bruised and as honest as anything he has ever written. It is Freedman's lot that The Whitlams story will always be presented as one of triumph through tragedy, but there is still no avoiding it. A writer worth his salt doesn't shy away from pain.
The Whitlams were formed in 1992 by Freedman, guitarist Stevie Plunder and bassist Andy Lewis. In 1996, Plunder took a train to the Blue Mountains and, in a depressed state, fell to his death. Four years later, Lewis, by then a member of another band, The Gadflys, committed suicide.
After Plunder's death, Freedman carried on with a wide cast of players to record Eternal Nightcap, the album which took them from inner-city pubs to national success, selling 200,000 copies. The album featured several songs which were frank examinations of Freedman's relationship with Plunder, to whom the album was dedicated.
The Curse Stops Here, recorded in concert with Freedman at the piano accompanied by the West Australian Symphony Orchestra, is dedicated to Lewis. Sung to a moving, melancholy brass arrangement, it features lines such as "Stay away from edges, stay away from ropes if you can".
The orchestral conductor that night was Sean O'Boyle, who says he'll never forget the experience. "As Tim started singing, a hush came over the audience," O'Boyle says. "It was one of those special moments where there's this magical connection between performer and audience. At the end of the song there was a deep silence and then the applause. Tim was very moved."
Freedman wrote the song one week after Lewis died in 2000, and a version of it was issued soon after as a track on the Blow Up the Pokies single. He always wanted to include the song on an album for a wider audience.
"Ghosts don't drag you towards their light, they make it brighter here for you," he sings, voice cracking with emotion. "It seems Stevie helped me through from over there, but will his friend now help him out?"
Freedman explains: "After Stevie died, the way my life had gone, it was almost like he was my guardian angel. But in the year before Andy died I hadn't been that close to him and I had been nasty about him in a song. That's him in Blow Up the Pokies, which no one knew was him. I don't know if he ever heard the song. I hope he didn't."
Freedman's career bloomed late, but music had always been an important part of his life. Tim was the son of Barrie, the long-time Sydney ABC announcer and newsreader, now retired. He recalls the boxes of LPs that would arrive at their house in Collaroy on the northern beaches, where his father would spend the next few days listening to them to prepare for his Saturday-morning radio show.
Despite his interest in the beach and music, he won an academic scholarship to Shore, the Sydney Church of England Grammar School, an experience which seems to have left him with a suspicion of the well-to-do. He began his love affair with the inner-west when he went to Sydney University to study arts-law.
"The first time I walked down my street a bloke fell out of the Twelfth Night bar at the Shakespeare Hotel and spewed in front of me and I thought, 'This is going to be interesting'."
He loved the cosmopolitan atmosphere, noted by his mother in the '50s in her first posting as a teacher to Forest Lodge Public, across Parramatta Road from the uni her son would attend. "That's when I'm proudest to be from Sydney, walking into the Campsie World of Fruit and there are seven different nationalities in the line, all smiling and laughing."
Freedman played in inner-city outfits but got serious when he met Lewis and Plunder. He was 27, and most of his friends were thinking about settling down. The competition of sharing the stage with people as talented as his new band-mates sharpened his focus as a songwriter.
"We got great crowds in Erskineville and Newtown straight away and I was playing to that audience. They wanted to hear stories about Erskineville and Newtown. We never tried to be anything we weren't. That's why when we made it, in the press it was always written as the unbelievable rise of The Whitlams.
"People said we were just a Newtown band that plays to uni students. And I would always think, 'Yeah'. But there are quite a few people who would like to live in Newtown and be a uni student." And so it proved.
Little Cloud is out through Warner next Saturday. The Whitlams play the Waterfront Wine and Food Festival, Carrara Outdoor Complex, Gold Coast, March 26, and tour Queensland in May.