The Whitlams' 7th album, their first since 2006
OUT NOW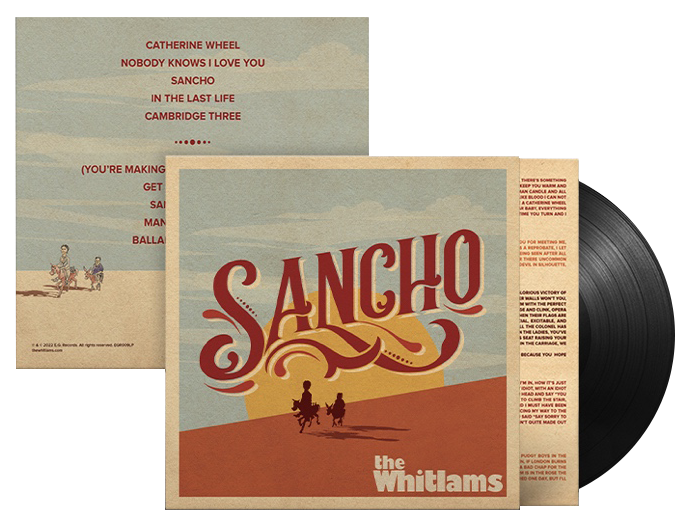 Tim Freedman writes:
I started writing the songs for "Sancho" when Sancho died. It was May 2019 and I got the call that a minute down the road at Royal Prince Alfred Hospital our tour manager of twenty years had left us after a massive heart attack.
My nickname for Greg Weaver was Sancho because he was always there for me, the steadfast offsider to the impractical, impetuous, disorderly Don Quixote, who most lead singers impersonate from time to time.
In 1987 he recorded a surprisingly good "desk tape" on cassette of my band while mixing a show in Bondi, and I thought "If I ever get serious I'll get this guy, he'll make us sound good". So in August 1997, a month before we released "Eternal Nightcap", I hired him, and we got to work.
I've written some sad songs about blokes in my time, but I wanted to make the title track "Sancho" different, and write a joyous song about the good times on the road. The pain of returning to those memories when we realise how much we miss him makes it a very important song for the whole band. We'll know it's sounding good if there is a ghost of the big guy air-drumming behind the sound desk. He would have loved mixing this song with the stacked harmonies and the art rock ending because first and foremost he was a music lover who enjoyed a challenge.
The other song about Greg is "Sancho In Love". I wanted to capture his charming quirks, so with the help of his family I started by listing some of his favourite things like sleeping on tour buses, and his otherworldly contentment with the sound of laundromats. Then I moved onto some of his habits and catchphrases. As his reputation grew, Greg worked with a lot of big bands: Boy and Bear thought I should mention Ben & Jerry's Ice Cream in the song, and Ballpark Music loved his portable tour iron with which he would press his Bisley shorts before setting out on the workday.
So the album is called "Sancho" and it is dedicated to the memory of Greg Weaver.
The Whitlams are
Tim Freedman – piano, vocals
Jak Housden – guitar,
Warwick Hornby – bass
Terepai Richmond – drums
Due to border closures Ian Peres played bass on tracks 2, 4, 5, 6, 7, 8.
Produced by Daniel Denholm and Tim Freedman
Mixed by Daniel Denholm at Point Blank, Sydney except for "Get a Hotel Room" mixed by Matt Fell at Love Hz, Leichhardt, and "(You're Making Me Feel Like I'm) 50 Again" mixed by Tim Palmer in Austin, Texas.
Band tracks for songs 3, 6, 8, 9, 10 recorded by Nicholas Wilson at Rockinghorse Studios, Byron Bay, April to November 2020.
Band tracks for songs 2, 4, 5, 7 recorded by Wayne Connolly at Music Farm, Byron Bay August 2021.
Strings recorded by Brent Clark and Daniel Denholm at Rancom St Studios, Botany
Strings on "Catherine Wheel" arranged by Jonathan Zwartz, for "Nobody Knows I Love You" by Daniel Denholm
Additional recording by Daniel Denholm at Point Blank, Sydney and Nigel Pegrum at Pegasus Studios, Cairns. 
Mastered by Steve Smart at Studios 301
Ⓟ & © 2022 E.G. Records. All rights reserved.