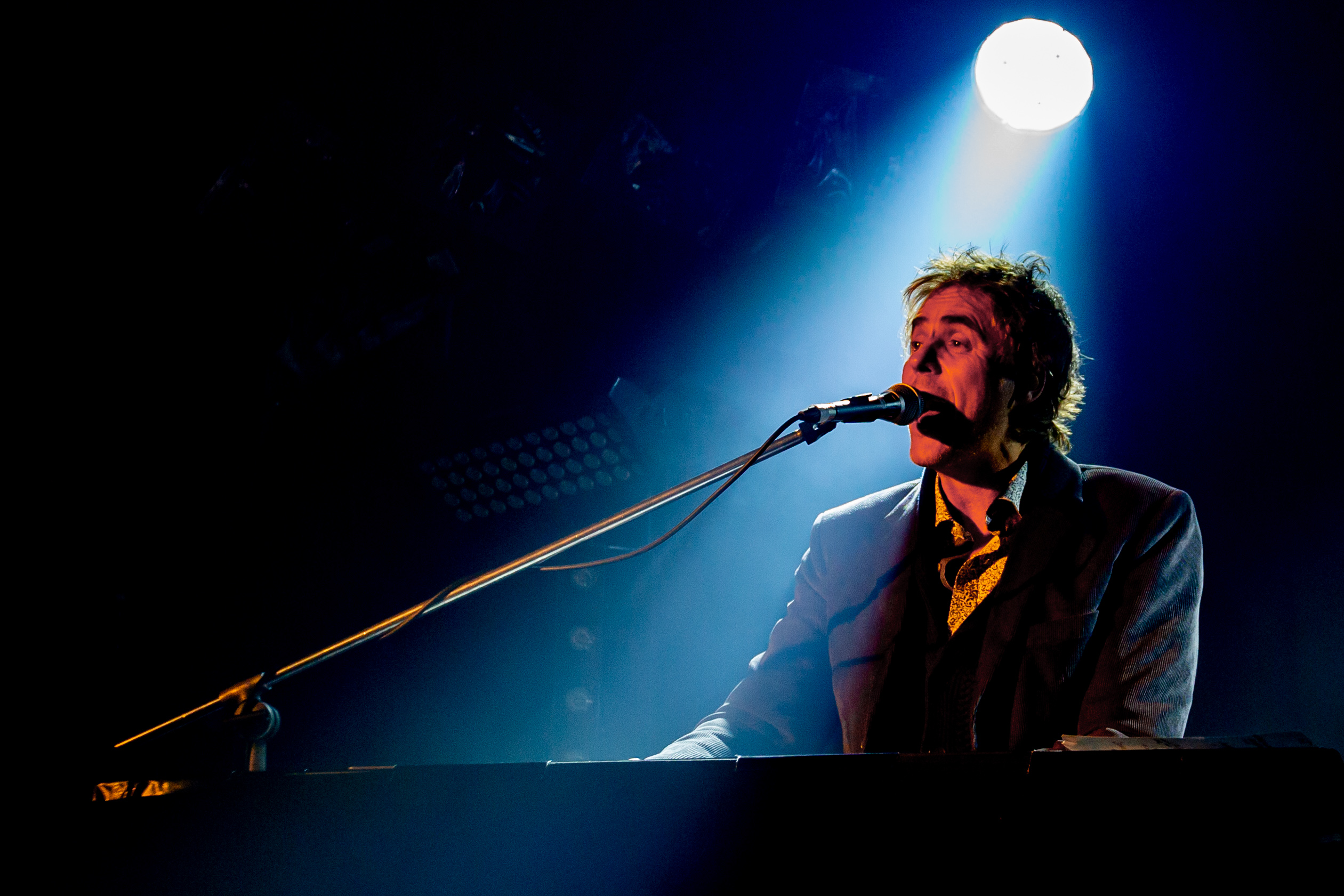 Celebrating the 20th anniversary of their seminal album, Love This City, the beloved piano rock group put on a special show.
There's something reliable about The Whitlams. They've been around forever and whilst they're not breaking any boundaries they're undeniably one of the best pub bands we have. This time around they graced The Corner stage in celebration of the 20th anniversary of their multi-platinum album Love This City. You know it, the one with 'Blow Up The Pokies'.
Not that they need an excuse, The Whitlams getting pleasantly pissed on stage at the Richmond venue is a regular affair and their rapacious crowd seemingly cannot be satiated, with the three Melbourne shows on this tour backing up the four they played at the venue last year.
Two songs in and it's easy to understand why they've always been a criminally underrated band – Tim Freedman is one of the better storytellers in Australian music; he writes character studies that are relatable in their vulnerability, whether it is the protective boyfriend in 'Make The World Safe' or the bitter, scorned lover in 'Made Me Hard'.
His songwriting is Springsteenian in its mundanity as he writes for the everyman, nevertheless, he begins the show with their epithet 'Gough', a paean to one of our country's few statesmen Gough Whitlam.
From there it's a cascade of greatest hits with 'Fall For You' and 'Charlie No. 3' warming up the crowd before they begin the celebration of Love This City. And in what could only be a self-aware attempt to balance the indulgent nostalgia of the band revisiting an old album with the desires of the audience, they break up the playback of the album with a spattering of fan favourites. 'Royal In The Afternoon' follows the album's title track, while 'Up Against The Wall' follows '400 Miles From Darwin' in an expertly thought out setlist twist.
An invitation for the charming and wholesome Bob Evans to come onstage makes for a nice mid-set seachange as he and Freedman belt out his '60s-throwback pop gem 'Nowhere Without You'. There's something comforting about a band that knows what songs of theirs have aged terribly. Thankfully we are not subjected to interminable Love This City tracks like 'Chunky Chunky Air Guitar' and the album deep cuts that are chosen are masterful, none more so than 'High Ground', one of the most perceptive songs about relationship power dynamics sung on The Corner stage in a long time.
Predictably, they finish the main set with their honky-tonk polka 'You Sound Like Louis Burdett'. No song encapsulates the band's hedonistic heyday better and 22 years after its release, it still looks like they love playing it. The encore gets thrown to the audience for requests, who predictably call for 'Melbourne' – Tim's affable memory of dating a vegan Melburnian with a dog named 'The Bear' comes to the surface.
By the end of the show, midnight is a distant memory and whilst Freedman looks as if he's just hit fourth gear, the crowd is tiring. As if fueled by defiance, they close with 'I Will Not Go Quietly', their ode to not growing old gracefully and never saying no to one more drink.
When Billy Joel sang of a piano that sounds like a carnival and a microphone that smells like a beer, he could have been talking about Tim Freedman, Australia's own piano man. However, it's more likely Freedman's microphone smells like a vintage tempranillo. We hardly deserve him.
Highlight: A ripper cover of Bob Dylan's 'Tangled Up In Blue' with Bob Evans on harmonica.
Lowlight: I think it's time to retire 'I Make Hamburgers'.
Crown favourite: "BLOW UP THE POKIES AND DRRAAAAGGGG THEM AWAY!" Preach Tim.